User Manuals
Each GasTurb program comes with a freely available and comprehensive manual. The functions of each GasTurb program are described in detail and made easy to understand in the manuals. The manuals can be downloaded in the download section.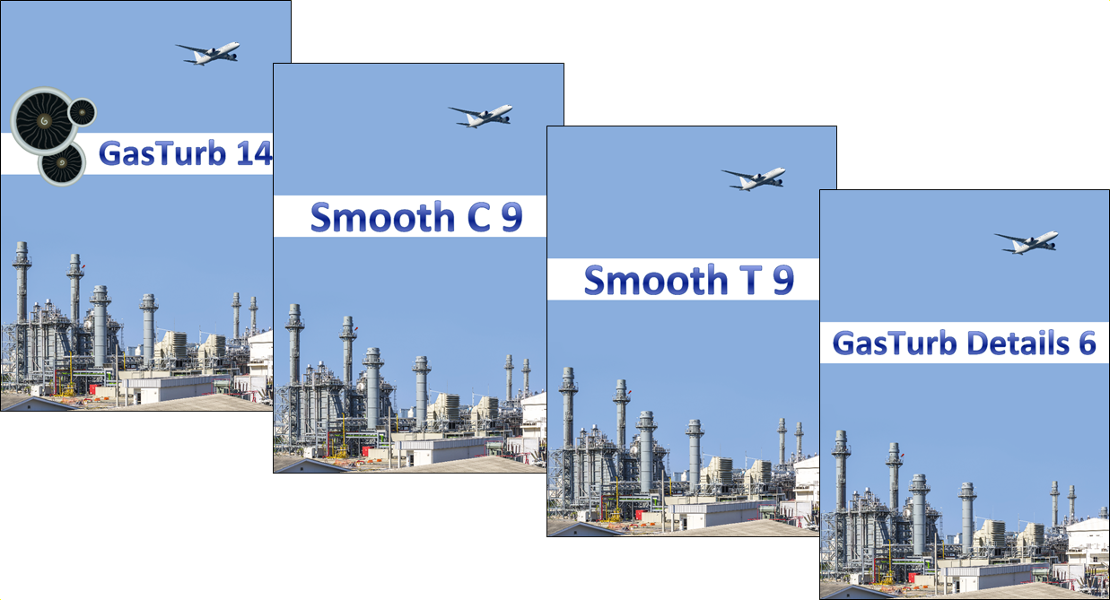 Tutorials
GasTurb makes simulation tasks easy. Newcomers to GasTurb are encouraged to view the three GasTurb Video Tutorials, that provide an introduction to Gasturb's user interface and its most frequently used features. There are many further tutorials available for download dealing with more advanced engine design tasks. Additionally, in a three part series the design and off-design calculation of hybrid-electric propulsion systems is explained. See more...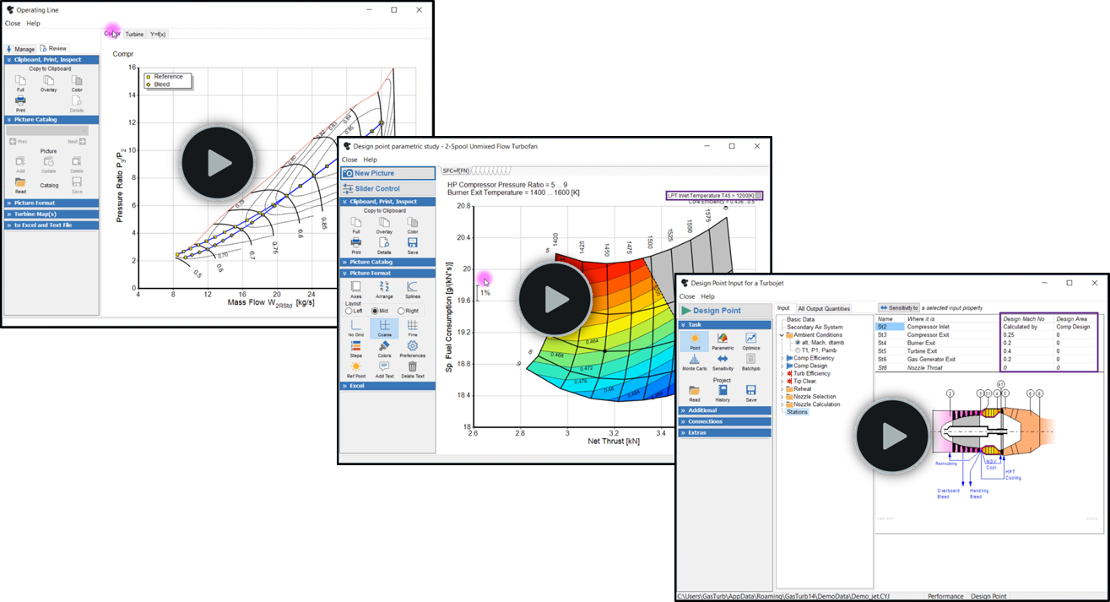 Training
GasTurb GmbH offers extensive training courses to customers interested in being given an introduction to how the programs work.
These services are offered in many different countries. Please contact us for more information.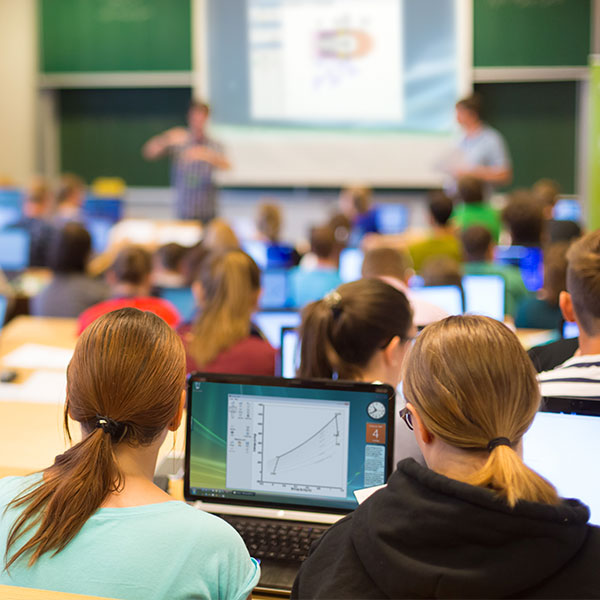 Consulting
Modeling existing engines based on a limited amount of information can be a challenging and time-consuming task. Sometimes the feature which would solve a customer's special simulation task most easily is not always obvious. In this case, the consultation services provided by the GasTurb GmbH may be helpful.
We offer seminars dealing with gas turbine performance in general and how to solve performance problems with GasTurb and the accompanying software Smooth C, Smooth T and GasTurb Details.
An example of a seminar plan is shown on the right.
Consultation services and seminars are also offered by our external consultant.
If you would like to hear about a special topic, please specify what you are interested in - we will do our best.

Please feel free to contact us for more information.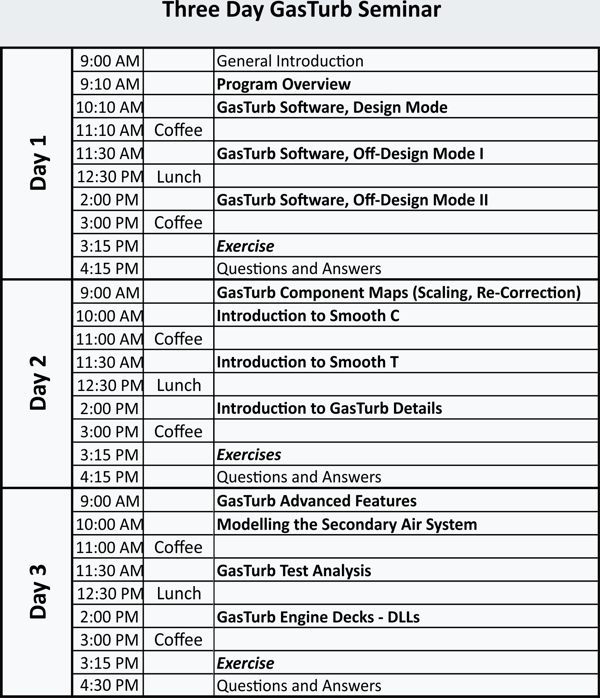 Updates
All known bugs are fixed as soon as reasonably possible. You can download the latest service update from the download section. Please note, that only purchases made after November 1, 2014 can be updated this way. If you have an older version and wish for an update, please contact GasTurb GmbH to obtain a download link. The update files do not contain runnable applications, they only patch previously installed versions of the program.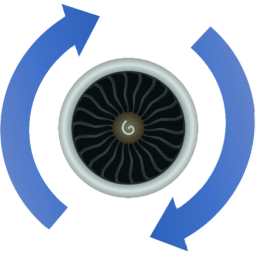 Literature
GasTurb is referenced and recommended in the following books:
H.I.H. Saravanamuttoo, G.F.C. Rogers, H. Cohen: Gas Turbine Theory; Longman Group Limited; ISBN 0-582-23632-0

Nicolas Cumpsty: Jet Propulsion; Cambridge University Press;
ISBN 0-521-541441
H. Grieb: Projektierung von Turboflugtriebwerken; Birkhaeuser Verlag
ISBN 3-7643-6023-2
W. J. G. Bräunling: Flugzeugtriebwerke; Springer-Verlag Berlin Heidelberg
New York; ISBN 3-540-40589-5
V. Kulagin , S. Bochkarev , I. Goryunov: Theory, calculation and design of
aircraft engines and power plants; ISBN 5-217-03269-3 (Russian)
H. Rick: Gasturbinen und Flugantriebe; Springer Vieweg;
ISBN 3-540-79445X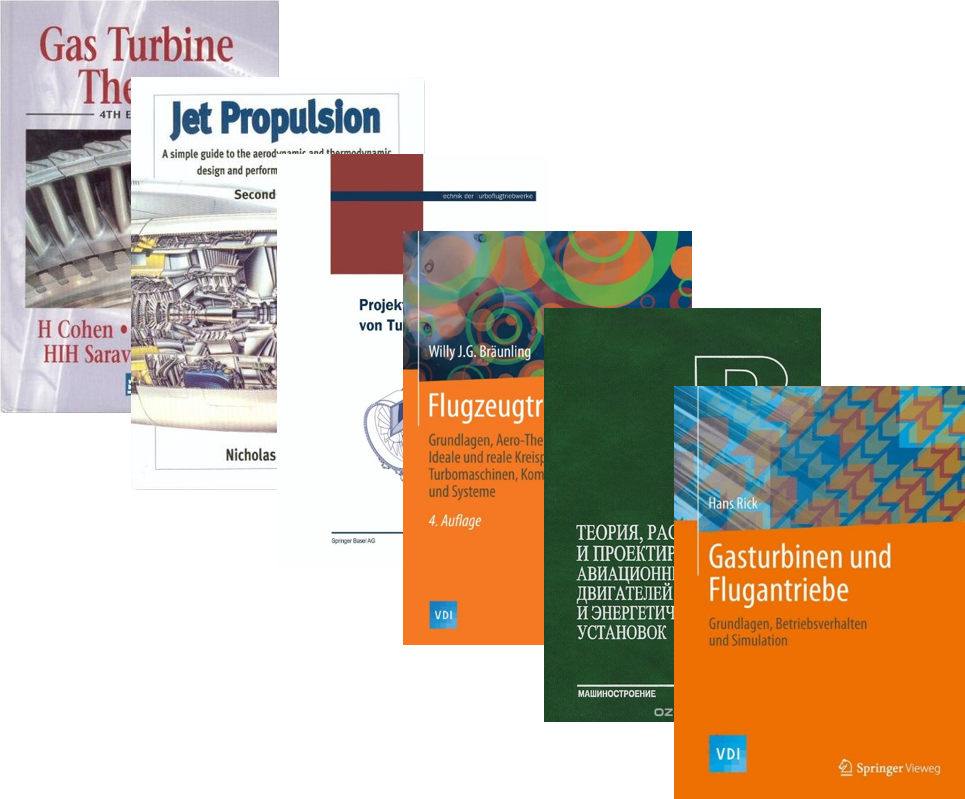 Support Request
If you suspect a bug or experience difficulties using GasTurb and its associated software, please contact us via This email address is being protected from spambots. You need JavaScript enabled to view it.. Likewise, feel free to share any ideas you have for improvement.